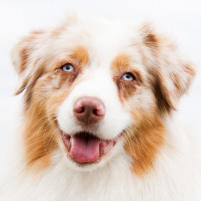 Gemelo is home to a small team of Australian Shepherds who are proving to be consistent winners in both obedience and performance rings, as well as the show ring.  We have a bright future ahead of us and look forward to many more successes.
Here at Gemelo we only breed when we are hoping to keep something for ourselves, so will occasionally have puppies for sale to loving pet and performance homes. All of our dogs are DNA tested, hip and elbow scored and eye screened before being used in our breeding program.
We are located just 2 hours North of Sydney, in the beautiful Hunter Valley. Please take a look around our website to learn more about us and about our dogs.
We gladly welcome any questions you might have about our Aussies or about the breed, so please feel free to contact us.