The 'Good Place' Litter.
On Friday 08/05/2020 Zest had her first litter. A lovely litter consisting of four puppies.
One Red Merle bitch
One Red Tri Dog
One Black Tri Dog
One Blue Merle Bitch.
Once again, we chose the stunning 'Vinnie' (Gr. Ch. Jedabun The Entourage) to be the father of this litter after being so happy with what he produced with Dime creating our 'Little' litter in 2019.
Thank you goes to Tracy from Jedabun kennels for letting us use Vinnie once more.
Gemelo A Girl From Arizona
'Flo' is now living with Mel in Perth, WA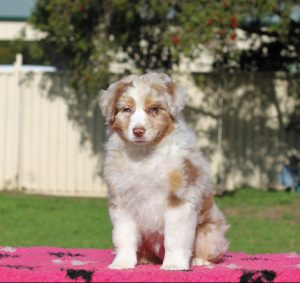 Gemelo Small Time Criminal
'Koda' is living with Tahnee, Stuart and 'big sister' Meika in Geelong, VIC. He regularly gets to see his extended family 'Hunter' (2014 James Bond litter) and 'Shelby' (2013 Great litter) as Tahnee's parents own both Hunter and Shelby!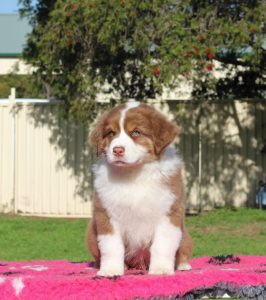 Gemelo A Moral Philosopher
'Remi' is being spoilt rotten by the Heisler family and his border collie 'big sister' Maddie in Melbourne, VIC.
Gemelo Wealthy Socialite
'Billie' is living in the beautiful Sutherland Shire area of Sydney, NSW with Renee, Bryce and family.