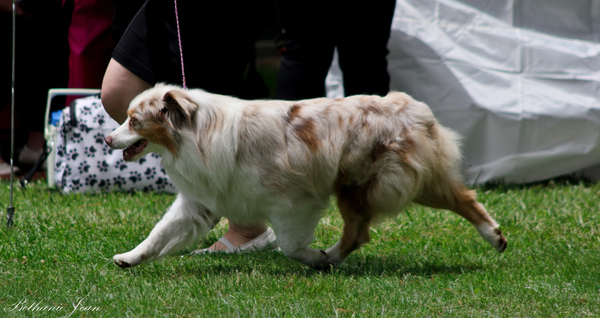 Peach is where our show career started. She is everything we could have wanted and more. She is a well balanced bitch with an oustanding head, a smooth free and easy gait and many other breed features which have been getting her noticed.
To date Peach is a mutli class in group and class in show winner. Her biggest wins thus far were Minor Puppy In Specialty Show – 2010 NSW Australian Shepherd Specialty and Minor Puppy in show – Hunter Region Working Dog Championship show 2010. Peach also outdid herself at the 2013 Uralla and Districts Kennel Club show by going BEST IN GROUP and RUNNER UP BEST IN SHOW!!!
Peachy is the 'princess' of the house hold. She is the quietest of our four Aussies and loves nothing more than a cuddle on the lounge.
Peach is the foundation of our kennel and is the mother of our first amazing litter, our "Cops and Robbers" babies.
We are very thankful to Linda Matthews of Tuscamada kennels for entrusting this fantastic bitch to us.
**Newsflash! Peach gains her CCD (Community Companion Dog) title July 2015!!**
**Newsflash! Peach gains her Rally Novice Title June 2014!!**
****NEWSFLASH!!! PEACH WINS HER FIRST BEST IN GROUP, RUNNER UP BEST IN SHOW & AUSTRALIAN BRED IN SHOW AT THE
2013 URALLA AND DISTRICTS KENNEL CLUB SHOW!!!****
*Newsflash! Peach gains her Endurance Title at the 2012 Canberra Endurance Test!*
Ch. Tuscamada Peaches N Cream CCD. RA. ET
Ch. Tuscamada Foggy Night

Hisaw's Man In The Fog (Imp USA)

Am. Ch My Main Man Of Heatherhill (USA)

Parkhills Hug Me In The Fog (USA)

Gr. Ch. Wlkabout Jack Daniels

Ch. Tuscamada Foggy Spirit

Hisaw's Man In The Fog (Imp USA)

Am. Ch My Main Man Of Heatherhill (USA)

Parkhills Hug Me In The Fog (USA)